President's Message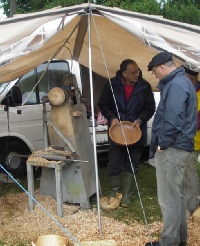 Having been involved in helping with Rhydycroesau Show for nearly twenty years, I was very pleased and flattered to be asked to be Show President for 2019.
My family and I first visited Rhydycroesau in 1998 when we started exploring the area on horseback from the trekking centre at Spring Hill Farm. Having fallen in love with the border landscape, that particularly reminded me of my childhood in the north Pennines, we moved to Ty Nant in Cefn Canol in 2000. At the time we didn't realise what a lovely community we had accidentally become part of. The first event that we attended was a Medieval Banqueting Evening held in the newly purchased village marquee, where we were kindly loaned fancy dress by one of our neighbours.
Since then we have been constantly impressed by the way in which our scattered community has regularly come together through a variety of activities centred on the village hall. The village show is one of the most important events in this annual calendar, and one that allows people to come together to renew relationships and celebrate our rural community. We remain constantly grateful to the show committee for all their hard work throughout the year, and particular thanks must go to the Lloyd family for allowing us to use their field behind the village hall for the first time.
Like many others, I also have been busy in my vegetable garden over the last few months, in the hope of seeing that very welcome red First Prize card on some of my show entries. Thank you to you all for supporting this important community event, and I look forward to meeting many friends on August 17th.
Hugh Ridley
Show President, 2019
Past Presidents
2021

[Cancelled due to COVID-19]

2020

[Cancelled due to COVID-19]

2019

2018

2017

Wendy Roberts

2016

Bryan Evans

2015

Adrienne Ruane

2014

Trefor Jones

2013

Alf Tomley

2012

Nigel Tubbs

2011

Jenny Upshall

2010

Jane Ormsby Gore

2009

Michael Prince

2008

Yossi Glicksman

2007

Rosemary Powell

2006

Brian Smith

2005

Miles Hunter

2004

Peter Foulkes

2003

Wynn Hughes

2002

Maurice Jones

2001

Deborah Hill-Trevor

2000

Ned O'Connell

1999

Tudor Evans

1998

Geoff Norman

1997

Sarah James

1996

Peggy Gilchrist

1995

Val & Tom Bethell

1994

Harry Ruckley

1993

Maurice Ridgway

1992

Harold Tomley

1991

Harry Hughes

1990

Cyril Parry

1989

Bill Peck

1988

Eaton Jones

1987

Myfanwy Jones

1986

Bill Richards